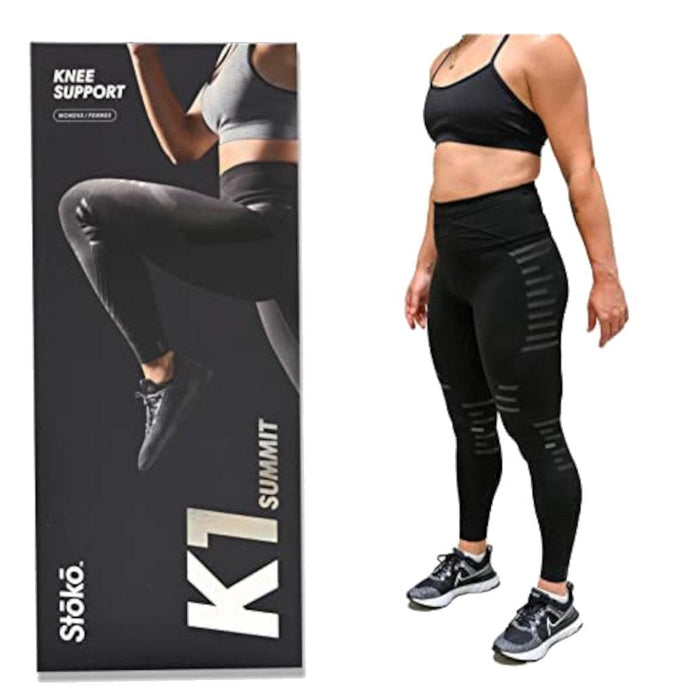 Stoko Women's K1 Summit Knee Brace | Medical-Grade Knee Brace in a Baselayer (Black, Large)
Sold out
Original price
$ 397.99
-
Original price
$ 397.99


STAY ACTIVE A medical-grade knee brace in an athletic tight, providing uncompromised support, comfort, and movement so you can manage pain, protect your body, and have confidence to keep exploring the alpine.
MORE SUPPORT, LESS PAIN Of users surveyed, 99% reported greater knee support, 89% reported less knee pain, and 80% reported support in their hips and lower back.
INJURY PROTECTION Built to protect your body from injury with support that is engineered to inspire the confidence needed to keep going.
HOW IT WORKS The K1 Summit provides the same support as many traditional knee braces by integrating 90 feet of high-strength cables, 15x the strength of steel, directly into the fabric. Two dials in the waistband allow you to adjust the support in each leg on-the-fly. The result is increased stability and freedom to move with support that inspires confidence.
PRODUCT FEATURES Medical-grade knee bracing, adjustable support, targeted compression, light, breathable fabric, drop-in side pocket, knit fly.
WHY WE MADE THIS For exploring the alpine. The K1 Summit is engineered to deliver support and warmth, keeping athletes active and fresh all day on the slopes.
TRUSTED Used by people from all walks of life, ranging from 65-year-old weekend warriors to Olympians and professional athletes.