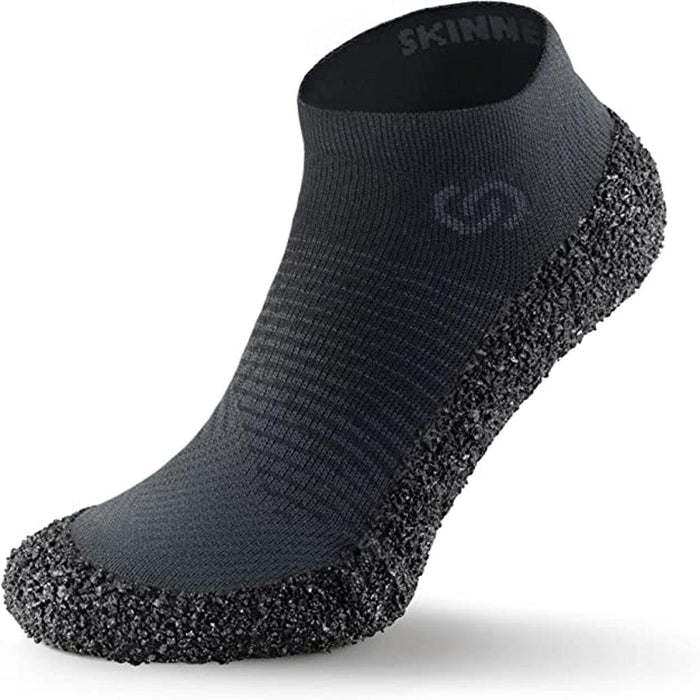 Skinners 2.0 Minimalist Barefoot Sock Shoes for Men & Women | Ultra Portable Lightweight & Breathable Footwear
Save

30

%
Save

30

%
Original price
$ 100.00
-
Original price
$ 100.00
ULTRAPORTABLE SHOES FOR SPORTS & TRAVELS that have your back wherever you stroll. Ideal footwear for running, workouts, yoga, and water sports that doubles as a pair of back-up shoes for traveling, camping hiking, and cycling.
EXPERIENCE THAT "SECOND SKIN" FEELING with a 3mm thin bottom layer that is protective and resilient, yet still allows you to be in touch with the terrain in an unparalleled way. Crumble-free outsole made of Swedish polymers provides your feet a world-class grip.
REVOLUTIONARY DESIGN FOR FREEDOM & PROTECTION, NOW PERFECTED. We added a 2mm thin quick-drying perforated insole that can be inserted or removed as you want. With increased lifespan and premium materials, Skinners 2.0 will guard your step for even longer.
DISCOVER THE ULTIMATE COMFORT OF MINIMALIST FOOTWEAR with wider toe box and adjusted sizing which provides flexibility and hugs your feet no matter their width. Finally, a shoe that adapts to your body, activates each muscle and tendon, and lets you move without limits.
VERSATILE, ADAPTIVE & PRACTICAL FOOTWEAR FOR ON-THE-GO LIFESTYLE. StretchKnitTM with 6 functional fibres keeps Skinners 2.0 fresh for longer. When in need of a refresh, just throw them in the washing machine!
Regular fit
No more squished toes with footwear that respects the natural shape of your feet. With a wider toe-box, nothing stands in the way of your comfort. Allow your feet to move around the way nature intended.
Lightweight and extremely compact
While offering the functionality and durability of regular shoes, Skinners 2.0 Comfort sock shoes take up little space and fit into any backpack. Thus, they serve as a reliable partner when traveling, hiking, or as a backup shoe for trips.
Removable insole
We added a 2 mm thin perforated insole for that extra layer of comfort. Your feet stay cozy and dry. Oh, and you can remove or insert it as you wish!
Machine washable
Maintaining Skinners Comfort couldn't be easier. Just rinse the socks after each wear and leave them to dry out. They are also machine washable at 30C/86F. Just note that you should not use fabric softeners or a dryer when washing.
Skinners StretchKnit
The combination of artificial and natural fibers ensure not only fast moisture wicking, but also that your Skinners fit perfectly.
Ultra-resistant sole
The unique technology ensures that even a mere 3 mm thin bottom layer lasts up to hundreds of kilometers.