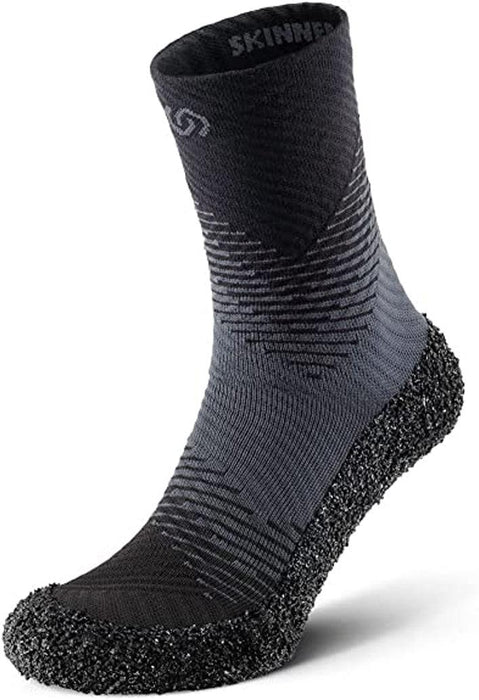 Skinners 2.0 Compression | Minimalist Barefoot Sock Shoes for Active Men & Women | Lightweight & Durable & for Sports and Dynamic Activities
Sold out
Original price
$ 100.00
-
Original price
$ 100.00
LIGHT AND DURABLE MINIMALIST FOOTWEAR FOR SPORTS & ACTIVITIES that serve as the right partner to help you boost any performance. With a 3mm thin bottom layer that is protective and resilient, the sock shoes allow you to be in touch with the terrain in an unparalleled way.
EXTRAORDINARY SUPPORT, STABILITY AND GRIP during running, workout, or even a demanding hike. The higher cut and slim fit toe-box of Skinners Compression ensure perfect fit around ankles and instep to make sure you have the proper support during any dynamic activity.
DURABLE, FUNCTIONAL, YET COMPACT AND LIBERATING, made out of anti-abrasive Swedish polymers, the sole will last hundreds of miles without imposing any limits on your natural way of moving. The combination of six high-quality Italian fibers provided by the StretchKnit patented technology ensure long-lasting functionality and comfort.
REMOVABLE INSOLE FOR BETTER MOIST-WICKING AND INCREASED COMFORT that will allow you to focus on your performance for a longer period of time. The insole can stay inside your sock shoes or you can remove it to increase the "second skin" feeling. It's all up to what you prefer.
MACHINE WASHABLE AND QUICK TO DRY OUT. The maintenance of Skinners 2.0 Compression cannot be easier as they don't require any special treatment. Just wash them in hand, or throw them in the washer for 86°F (30°C), hang them up and let them dry out in no time.
Slim fit
With a higher cut and narrower toe-box, Compression fit perfectly around the foot and ankle, providing plenty of support and balance for more dynamic activities and sports.
Durable and flexible
Patented StretchKnit℠technology, which combines the highest-quality Italian fibers, ensures exceptional functionality. A sole made of specially developed polymers provides long-lasting durability.
Removable insole
For even more coziness, we've added a perforated insole to the Compression. With improved moisture-wicking capabilities, your feet will be comfortable during every activity. Plus, the insole can be removed or inserted, it's entirely up to you.
Lightweight and compact
Although they are extremely durable and functional, the sock shoes don't take up much space and fit into any backpack. They thus serve as a reliable partner when traveling for active adventures.