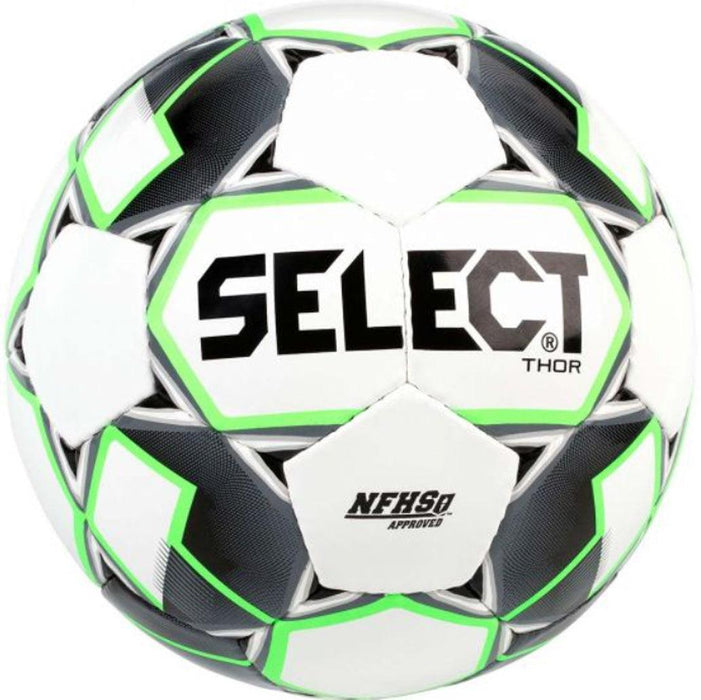 Select Bundle of 10 Thor White/Black/Green Size 5 NFHS/NCAA and IMS Soccer Ball
Sold out
Original price
$ 309.99
-
Original price
$ 309.99


Bundle of 10 soccer balls.
The Thor soccer balls has a 1.0mm PU cover with a specially developed underlining and the 7-wing bladder, making it a durable ball with a predictable bounce.

Please note: Ball ships deflated. A ball pump is required to inflate the ball before use. Please note: As with all premium soccer balls, ball should be topped off with air every few days for best results.

Latex Bladder
A 7-wing latex bladder ensures that the ball is balanced when traveling through the air, stays round as possible and has a more lively bounce.
*Latex is a natural material with open micro pores which enables air to leak over time.
FIFA standards for a quality soccer ball allow for this air loss in their criteria. All balls fitted with latex bladders must therefore be pumped up on a weekly basis.

High School Play
The Thor is NFHS approved for use in high school matches. (Size 5 only)
NFHS authentication requirements are a ball with a circumference of 27-28 inches, weight of 14-16 ounces and made of leather or similar material. NFHS Authenticated by ICS Laboratories, Inc., 2015.

32 Hand Stitched Panels
The 32 panel design was developed in 1962 by Eigil Nielsen, the founder of SELECT. By using 20 hexagons and 12 pentagons SELECT succeeded in creating the roundest ball ever seen.
This construction is still used today as it provides an optimal roundness which is essential to obtain reliable aerodynamics - a straight flight and a controlled bounce.

Player's Number
On all of Select's most popular club and training balls, we have implemented a white-on-black digital 88-panel.
Each player can then with a black permanent marker 'erase' the white elements of the digital 88, and thereby create his/her own Player's Number.