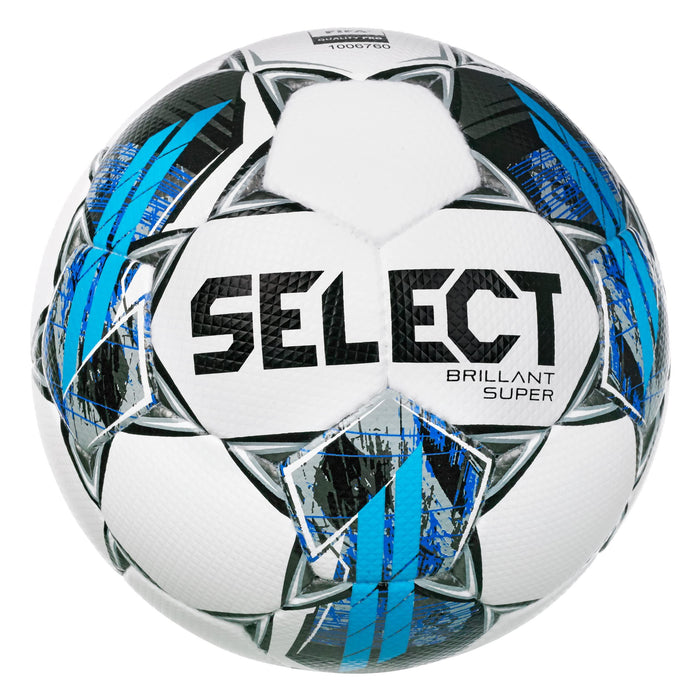 Select Brillant Super V22 Soccer Ball White/Grey/Blue Size 5 FIFA Approved
Sold out
Original price
$ 185.00
-
Original price
$ 185.00
HIGHEST QUALITY: Premium Teijin microfiber synthetic-leather combined and 3-layer underlining with a Zero Wing latex bladder give the ball a lively bounce and an even lighter and softer touch
THERMO BONDED TECHNOLOGY: A method that activates the glue with heat and pressure to bond the 32 panels. No stitching. TB ball takes up less water helping to keep original weight when playing in wet conditions
PREMIUM OUTER MATERIALS: The outer material and the underlying foam gives the ball a light touch and a comfortable softness
The outer material and the underlying foam give the ball a light touch and a comfortable softness
FIFA APPROVED: The Brilliant Super has achieved the highest possible FIFA rating for its weight, water absorption, circumference, roundness, shape-stability and bounce.
The soccer ball is hand stitched and manufactured using high quality materials from the inside to the outside.
The Zero-Wing latex bladder by SELECT ensures that the ball is constantly balanced when traveling through the air and a Double-Lock valve keeps the ball suitably airtight.
The combination of a specially manufactured underlining of finely woven cotton and polyester, together with the ultra thin and extremely flexible microfiber, gives the soccer ball an extra softness that makes it easier to kick than before.
The extremely durable TEIJIN microfiber material ensures that the soccer ball maintains its high quality and round shape and absorbs an absolute minimum amount of water.
Two crucial elements combine to give the Brillant Super optimal roundness, reliable aerodynamics and a controlled bounce.
The first crucial element in the Brillant Super construction is the 32 panel design. The classic, hand-sewn construction of 32 panels means that the ball meets resistance at a later point in its trajectory though the air, thus retaining a steady, high speed over a longer period of time.
The second crucial element is the Zero-wing latex bladder. Inside the ball is a Zero-wing latex bladder. The Zero-wing concept, ensures a perfectly round and balanced ball, always maintaining its shape through the impact.
These construction methods combine to create a ball with the best quality, most predictable and straight flight and a controlled bounce.