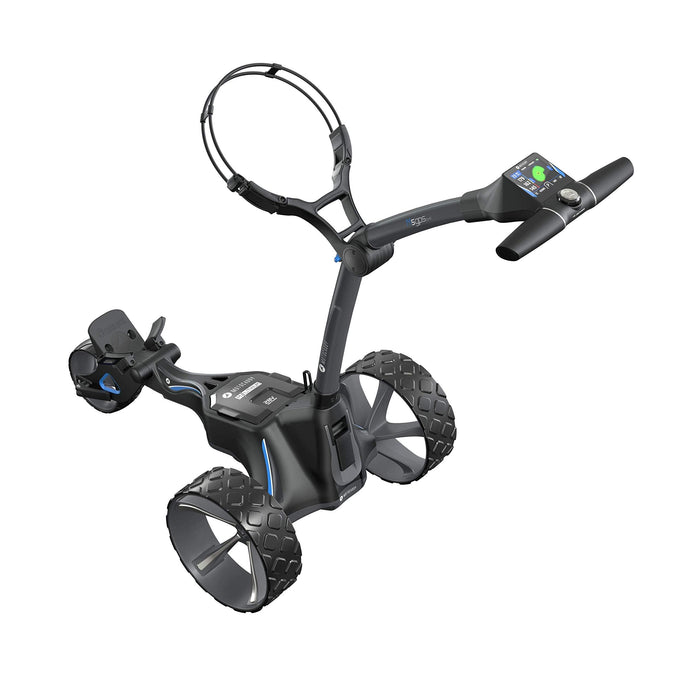 Motocaddy M5 GPS DHC Electric Caddy Golf Bag Cart With Ultra Lithium Battery
Sold out
Original price
$ 1,500.00
Original price
$ 1,500.00
-
Original price
$ 1,500.00
Original price
$ 1,500.00
Customer Returned Used ELECTRIC GPS GOLF CADDY: Compact, easy-to-fold motorized golf cart caddy with fully-integrated GPS effortlessly moves around the course and ups your golf game; Dimensions (L x W x H): 16.1 x 18.5 x 25.6 inches; Weight: 28.4 pounds
DYNAMIC TOUCHSCREEN: 3.5-inch touchscreen display is easily viewable and controllable in all weather conditions or while wearing a glove; Innovative system features clock, round timer, score tracking, and course metrics to help record and compare your results
KEEP CONTROL: Downhill braking technology maintains a constant speed while moving down a gradient, preventing runaway caddies; 3 all-terrain DHC wheels provide traction on all types of terrain and invert when the frame is folded
FULLY ADJUSTABLE: Simple-to-fold, 2 step system collapses the cart into a compact size for easy storage and transportation; Thick, ergonomic handle adjusts to perfectly fit your height
RESPONSIVE GPS FEATURES: 40,000 pre-loaded courses contain valuable distance data; Reposition the flag to plan your shot; Optional smartphone alerts ensure you don't miss important life events off the course
Customer Returned Used
Built In GPS Touchscreen

Compact and easy-to-fold, the M5 GPS DHC is the world's first compact caddy to offer fully integrated GPS built into a super-responsive 3.5 touchscreen display.

Easily viewable no matter the weather, the screen can be easily controlled in all conditions  even while wearing a glove.



Power At Your Fingertips

Boasting 40,000 pre-loaded courses with distances to the front, middle and back of the green, plus hazards, the M5 GPS DHC offers the ability to move the flag position for more accurate shot preparation.

Packed with features, the high-resolution touchscreen display also includes a Clock, Round timer and Score tracking, plus the par and stroke index of each hole, shot distance measurement, automatic hole advancement and a battery meter.



Smart Connectivity

The M5 GPS DHC can also be connected via Bluetooth to the free Motocaddy GPS app to offer a wide-range of smartphone notifications including missed calls, texts, emails and range of app alerts, including WhatsApp and Facebook.

In another industry first, the caddy also offers built-in WiFi for super-fast Over-the-Air course and system updates.



Keep Control

Developed with our award-winning DHC technology, the caddy can also maintain a constant speed while moving down a gradient - thanks to a special single motor that offers downhill braking, coupled with an electronic parking brake. It also comes with specialized all-terrain DHC wheels.