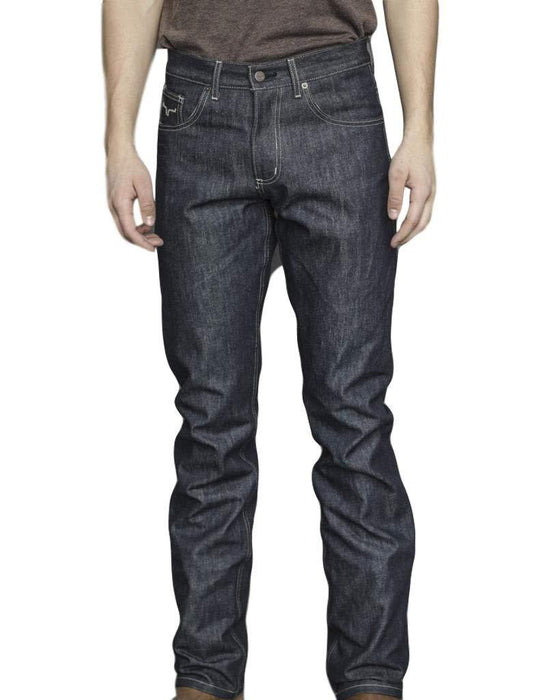 Kimes Ranch Men's Raw James 36W x 34L Straight Fit Boot Cut Blue Jeans
Sold out
Original price
$ 135.00
-
Original price
$ 135.00
Brand-new authentic merchandise.
DETAILS: Low Rise, Straight Fit, Straight Boot Leg, Integrated Knife Pocket. Light Stitching
CONTENT: 100% Cotton
Made In The Usa
13.75 oz denim 100% ring spun cotton
Button up with zip-fly
The Raw James features a lower rise with a straight fit and straight boot leg in an untreated, raw denim that will uniquely wear with you to create a one-of-a-kind pair of jeans. An integrated knife pocket and light stitching perfectly accent these traditional jeans.
MADE IN THE USA - Imported Fabric
DETAILS: Low Rise, Straight Fit, Straight Boot Leg, Integrated Knife Pocket. Light Stitching
CONTENT: 100% Cotton
CONSTRUCTION: 3x1 Right Hand Twill. Ring Spun. 13.75 oz. denim.
Our jeans have the longevity and durability you demand because we only source ring-spun denim. Ring-spun denim has greater tensile/tear strength in the fabric form than open-end yarn found in other brands. Thus our jeans last two to three times longer.
ABOUT RAW DENIM
This denim is raw and unwashed. It has been treated with natural indigo. During the first few wears, the excess dye may be transferred onto skin, upholstery, garments, shoes, and your saddle.
Raw denim will shrink.
As a rule of thumb, our raw denim will shrink roughly 1/2 an inch in the Waist and 1 to 1 1/2 inches in length.
When buying raw denim, we recommend buying your same Kimes Ranch size, to allow for the perfect fit once the raw denim is washed.
Please use caution when wearing this product to avoid an unwanted color transfer that is out of our control.